With the impending birth of her first child with Prince Harry, all eyes in the media are on Meghan Markle. Unlike her sister-in-law, Kate Middleton, whose fashion became a staple of British press observation, Meghan's outfits have gone unnoticed in comparison. Articles pored over Kate's dresses from LK Bennett and Alexander McQueen, with women all over Britain breaking the internet attempting to copy the Duchess of Cambridge. Megan, however, was shown in Vogue this week to have very different fashion tastes – tending to favour sustainable brands.
Vogue listed Stella McCartney (of course) and Gabriela Hearst as favoured designers of Meghan, both known for using sustainable practices. Meghan also favours lesser-known brands such as Outland Denim and Rothy's.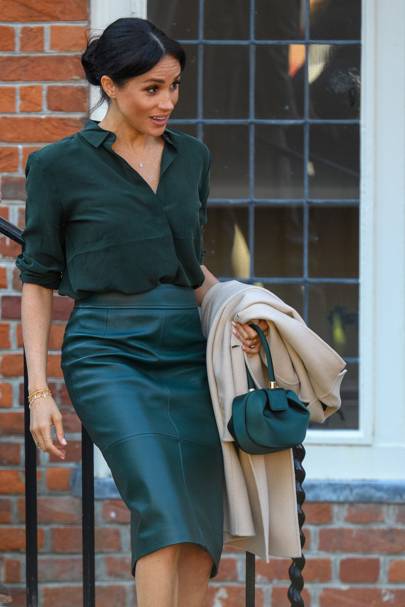 Meghan wearing Gabriela Hearst (Credit: Rex)
I knew nothing about Meghan's love for sustainable fashion, mostly because it has gone largely under-reported in the media. I could list Kate Middleton's favourite designers off the top of my head, and probably be able to describe an outfit that she has worn within the last week. Meghan's press, however, has circulated around her pregnancy and ongoing feud with her father.
If the media paid as much attention to what Meghan is wearing as much as Kate, we could see a spike in sustainable fashion amongst British women. The Duchess of Sussex is already a popular figure, admired for her role as Rachel Zane on Suits. If the media honed in on her love for sustainability, the sustainable fashion movement could assume a whole new dimension. Perhaps Kate Middleton would follow suit, shown-up by her sister-in-law. We can only hope.